Caregiver Support & Patient Programs
Providing Peaceful Solutions In Your Time of Need
Comfort Connections is a group of comprehensive programs unique to Gulfside Healthcare Services offer a variety of services to ensure that patients and their caregivers receive all the tools and resources needed according to their individual situation.
Gulfside is proud to offer these many supportive programs to better assist our patients and their families outside of traditional care. The programs listed below are available for patients of Gulfside and their caregivers, and are just some of the many ways that Gulfside goes above and beyond to offer quality care to those in need.
If you would like to learn more about how you or a loved one can benefit from these and other services offered by Gulfside, please call 800-561-4883. Our expert team is available 24/7 to answer your questions.
Want To Support These Programs?
These specialized programs are available to help patients, caregivers and families thanks to the generosity of the community. For information on how you can support these programs, contact Gulfside's Philanthropy department at 727-845-5707 or donate below.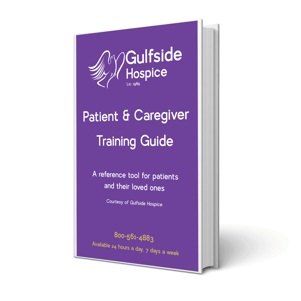 Caring for a loved one?
All patients and families on Gulfside Hospice's services receive a copy of the Patient & Caregiver Training Guide as a reference tool. Inside you'll find tips for dealing with common symptoms like pain and nausea, help with daily tasks, information about the Gulfside care team, and more. Complete the form and we'll send a digital version of the guide directly to your email free of charge.